Mentor for Families app provides ongoing improvement for new teen drivers
Congratulations on passing your driving test! Obtaining a driver's license provides a lot of freedom and flexibility to do more of what you want to do. But that freedom comes with a lot of responsibility because being on the road puts other people's safety, and sometimes their lives, in your hands. How can you continue improving your driving skills beyond the driving test, and beyond trial and error?
Driving is about skills and habits
While studying for your driving test, you had to learn about traffic rules and the procedures involved in handling a vehicle. You had the opportunity to practice these skills during your provisional license so that you could learn them well enough to pass your driving test.
But like any new skill, driving well takes practice so that the rules and procedures become ingrained–they become habits. Eventually, you won't even conscientiously think about the maneuvers you'll make on the road. But before then, you need to develop good habits.
A new app from eDriving, called Mentor for Families by eDriving , can help you do that.
Tracking and training for ongoing improvement
The  Mentor for Families app downloads onto any smartphone, tablet, or computer and tracks and rates your driving habits based on six risky behaviors, including:
Speeding
Cornering
Distracted driving
Rapid acceleration
Phone usage
The idea is to track the behaviors around driving, which extend beyond skills and knowledge of the road, to build and reinforce good habits. It's like having your own personal driving coach. Mentor collects data from each drive and provides a report and assessment, both per trip and trends over time. You'll also get proactive prompts to reinforce certain skills, and encouragement when you've shown improvement.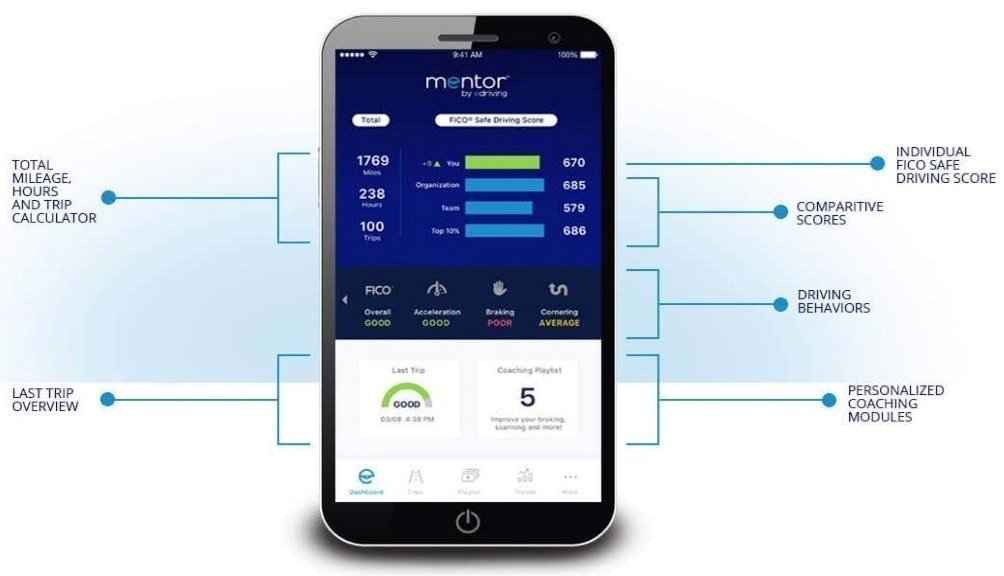 Proof of better driving
By tracking your data over time and engaging in the process of improving your driving skills, you can demonstrate your responsibility behind the wheel using Mentor's FICO ® Safe Driving Score, which consolidates all your driving data into a single unit of measure.
Demonstrating an improved FICO ® score might help convince your parents of allowing extra privileges, such as staying out an extra hour or taking the car for a weekend camping trip. Your FICO ® score might also come in handy if you end up in a fender bender and need to help convince your insurance provider that you are an overall safe driver.
Improving your FICO ® score might also provide a few bragging rights among your friends. Who has the highest score?
Small investment, safe rewards
Improving your driving skills is good all around, ranging from reduced risk of accidents to getting more driving privileges. But it can also provide new drivers with more encouragement and confidence while they're still getting comfortable behind the wheel.
Download Mentor for Families today to start building your skills and tracking your improvement. You'll learn faster, be able to track your progress, and be a safer driver.
Stay Informed
Stay current with blog updates, new offers, and exclusive deals! Join our mailing list today.